Get the chance to seethe best festivals of Western Visayas all in one event! You don't need to go to Intramuros, Manila to witness this event at the Wow Philippines. This time the event will be held right in the regional capital of Western Visayas, Iloilo City.

Babaylan Festival of Bago City Negros Occidental
On October 27, 2006 all festivals will converge in the Queen's City of the South for the Parade of Festivals 2006. This event is part of the upcoming Western Visayas Tourism Assembly slated October 23-29, 2006.

Tultugan Festival of Maasin, Iloilo
Among the contingents expected to perform are the world famous Kalibo Ati-atihan Festival, Antique's Binirayan Festival, Iloilo City's Dinagyang Festival, Maasin's Tultugan Festival, Bacolod's Masskara Festival, Passi City's Pintados de Passi Festival, Guimaras' Manggahan Festival, Santa Barbara's Kahilwayan and the Sinadya sa Halaran of Roxas City.

Iloilo city's Dinagyang Festival
The parade will start at 8AM in front of the Iloilo Provincial Capitol, going to the Freedom Grandstand.
Five out of the top 10 contingents in the Aliwan Fiesta 2006 came from the Western Visayas Region. These are the Dinagyang Festival (2nd place), Pintados de Passi (3rd place), Kahilwayan Festival (5th place), Tultugan Festival (7th place), and Babaylan Festival of Bago City (10th place).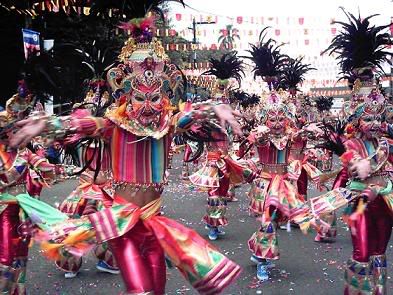 Masskara Festival of Bacolod City
The Aliwan Fiesta is an annual competition of festivals from all over the Philippines. This year's edition was participated by 30 festivals from Luzon, Visayas, and Mindanao

Santa Barabara, Iloilo's Kahilwayan Festival
http://www.byahilo.com
Your Journey Begins Here
Upcoming Festivals to watch out for!
Sinulog 2010
Ati-atihan 2010
Dinagyang 2010
Panagbenga Festival 2010
Philippine International hot Air Balloon fiesta 2009 Clark Pampanga
This post has been viewed 38965 times by 4079 visitors.