Kari na sa Bacolod, magdala sang maskara, kag magsinadya kita! (Come to Bacolod, bring your masks, and we'll have some fun!)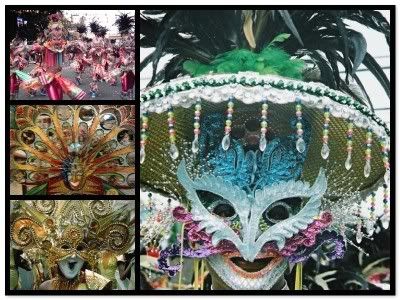 This is the usual chant that you can hear from the Ilonggo people of Bacolod City, Philippines. Talk about parties and they know how to do it, Ilonggo-style. Streets will be closed for vehicles, large boomboxes will be placed on the streets. Non-stop dancing day in and day out. On the other end of the street is a wide array of foods and booze, while on the other end of line is the fairground and carnival for the young and young-at-hearts.
And who doesn't love the Masskara Festival?
The Philippines's most colorful festival is set to take centerstage once again on October 20-22, 2006 during the three-day street-dancing competitions. Aside from these, there are also other activities lined up until the grand highlights of the festival. Here are just some of the activites you should not miss during the Masskara Festival:
October 15 – Miss Masskara Beauty Pageant
October 18 – Countdown to Charter Day Grand Srteet Party. All intersections of Araneta Street will be lined with stages and showbands
October 19 – Bacolod Charter Day. Civic Military Parade in the afternoon
October 20 – Masskara Festival Streetdance competition (Schools Category)
October 21 – Masskara Festival Streetdance competition (Baranggay Category)
October 22 – Masskara Festival Streetdance competition (Open Category)
The Masskara Festival has been invited to perform in several key cities in the country including Manila, Iloilo Davao, and Bohol. They have also danced their way to Singapore during the Chingay Festival. It was a proud moment not just for the Bacoleños, but for the entire Filipino nation, when they won the top prize in the 2004 World Tourism Festival in Shanghai, Chaina. They also won the Best Foreign Contingent Award during the 2005 Midosuji Festival in Japan.
Byahilo: Your Journey Begins Here
Upcoming Festivals to watch out for!
Sinulog 2010
Ati-atihan 2010
Dinagyang 2010
Panagbenga Festival 2010
Philippine International hot Air Balloon fiesta 2009 Clark Pampanga
This post has been viewed 2058 times by 498 visitors.