Tobacco Monopoly Monument
When the Spaniards discovered that the land and climate of Ilocos is perfect for growing tobacco, they forced the people to plant only tobacco and no other crop. The sakadas were also forced to sell the tobacco leaves only to the Spanish government. This has lead to numerous resistance among the locals. There were also stories of untold abuses done by the authorities. For one hundred long years, 1781 until 1881, the tobacco monopoly existed in Ilocos. A period of dark history in Ilocandia.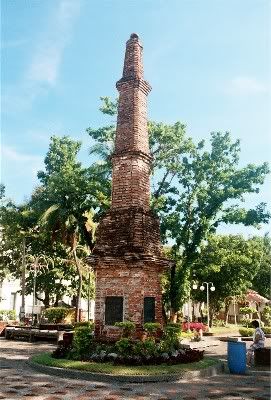 It was only in 1881 when King Alfonso XII lifted the tobacco monopoly. The people of Ilocos then erected the Tobacco Monopoly Momunent as a thanksgiving to the Crown of Spain for recognizing the stuggles of the Ilocano people against the Monopoly.
The tall yet graceful monument is located right at the center of Laoag City plaza, in front of the Provincial Capitol.
This post has been viewed 14591 times by 3090 visitors.