And yet…another cheapie airfare deal!
Whoa, I just can't believe this. If only I can have a vacation leave everyday… hahaha. Anyways, I got this e-mail from the Cebu Pacific Mailing List.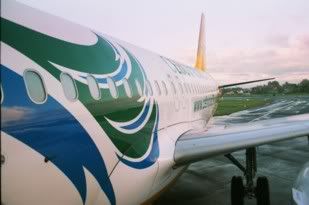 IT'S LOW COST TO ILOCOS!
Cebu Pacific now flies to the tranquil city, Laoag starting June 8, 2006.
Fly to the newest Cebu Pacific destination LAOAG for as low as:
PhP 488 for Manila-Laoag or v.v.
Cebu Pacific flies to Laoag thrice weekly on Tuesday, Thursday and Saturday. Enjoy your trip onboard our brand new Airbus A319.
Manila – Laoag Flt 5J 402 Departs: Tu-Th-Sa
ETD 1155H ETA 1245H
Value Fare: P 888
Laoag – Manila Flt 5J 403 Departs: Tu-Th-Sa
ETD: 1315H ETA: 1405H
Value Fare: P 888
Selling period is from May 10 to 17, 2006 only for travel on June 08 to October 19, 2006. Fares are exclusive of applicable fees and taxes. Visit cebupacificair.com, call 70-20-888 or the travel agent nearest you for MORE details. Hurry, book now!
This post has been viewed 17194 times by 2115 visitors.